Everyone had toys and games as a child and often these are tucked away in a cupboard or attic gathering dust for years. For many of these items there is a thriving market and some can be very valuable.
Lego remains ever popular and old and modern sets alike achieve outstanding prices at auction, even boxes of mixed loose bricks sell well. Action Man, Star Wars, Subbuteo, Scalextric, Airfix and other model kits including Meccano provide great nostalgia and are well collected. Dolls and teddy bears also remain favourites.
Tinplate toys including robots, cars, motorcycles and novelties always achieve great results at auction. They can be clockwork, mechanical or battery operated and the early German makes such as Arnold, Bing, Lehman and Marklin are highly sought after. Amongst the British makers, Chad Valley, Mettoy and Wells tend to be the most recognisable. Mid 20th Century Japanese tinplate models are also very popular, particularly robots.
Model soldiers offer a broad selection for collectors with the most well-known being Britains which were first produced in 1893. They quickly gained popularity and were joined by Charbens, Johillco, Cherilea, Barrett, Taylor, Timpo to name but a few. Germany and France also produced quality model soldiers with the likes of Elastolin, Lineol, Lucotte and Starlux. In more recent times Courtenay, Stadden, King & Country, Del Prado and others often appear at sales and produce great results at auction.
The modern market for video games and gaming technology has exploded and wargames, such as Warhammer, are hugely popular.
If you have a single item or collection that you would like valued, contact our team of experts for a free, no obligation valuation.
Get free online valuation
Get a free auction estimate by submitting your item online. Selling has never been easier with Griffin's Auctioneers.
Get a free valuation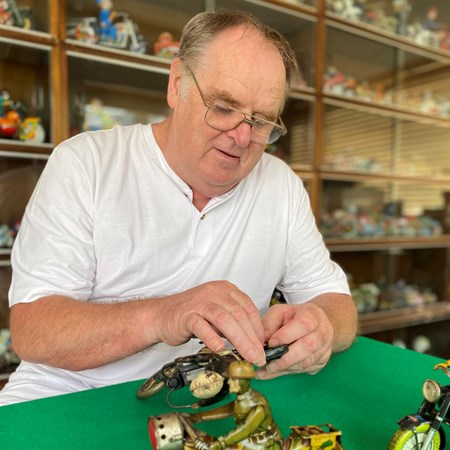 View profile