Picture postcards can provide a fascinating glimpse into the past and it is real photographic topographical that often prove to be the most popular with collectors, particularly those issued before World War 2.
People often collect cards from their local area or the town or county they originally come from.
Artist drawn cards also provide a wealth of material for collectors. Nenowned artists include names such as Louis Wain, Donald McGill, Mabel Lucie Attwell, Raphael Kirchner and A.R. Quinton.
Of course postcards are not limited to places. Other highly collectable postcards include subject matters such as; advertising, animals, aviation, military, railways and film stars. There are also some delightful, highly sought after themes of art deco, art nouveau, disasters, silks cards (woven or embroidered), suffragettes, foreign cards and comic cards such as the saucy seaside cards by Bamforth.
For help and guidance with your cards, contact us today for a free valuation.
Get free online valuation
Get a free auction estimate by submitting your item online. Selling has never been easier with Griffin's Auctioneers.
Get a free valuation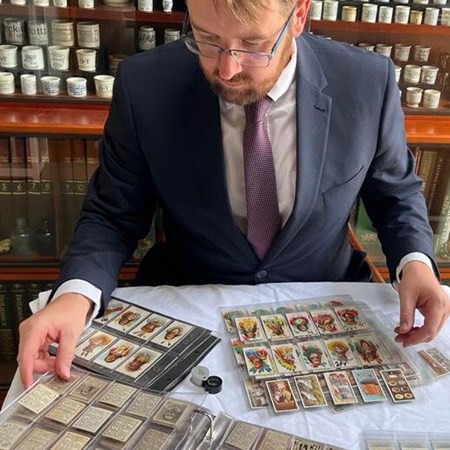 View profile