Demand is high for medals and militaria with collectors keen to purchase items that give a snapshot of some of the biggest moments in World history.
Military medals awarded during some of history's most renowned actions, such as the Battle of Waterloo, the Crimean War (Charge of the Light Brigade), Indian Mutiny, the Zulu Wars (Rorke's Drift), remain the most popular.
WW1 medals always attract a great deal of interest, particularly those related to the Battle of the Somme, Gallipoli, Jutland, Ypres and Passchendaele. Likewise, items connected with the famous events of WW2 like the Battle of Britain, D-Day, The Dambusters, Battle of El-Alamein continue to fascinate.
Some of the most interesting medals and decorations we deal with are those awarded for gallantry. Most people will know the Victoria Cross, but there are many other gallantry awards including the Military Cross, Distinguished Flying Cross, Distinguished Conduct Medal, Distinguished Service Medal and others issued to the Army, Royal Navy and Royal Air Force.
We have seen some strong results at auction from international Medals and Medals issued for Police gallantry and service, Fire Service medals and lifesaving awards.
Militaria covers a broad range of collectable items, most notably firearms such as Flintlock or Percussion cap rifles, pistols and shotguns. Bladed weapons such as swords, bayonets and daggers also generate interest in addition to a host of others items such as cap badges, uniforms, helmets, headdresses, trench art, paperwork (such as diaries, log books and letters), photographs and many others.
There are strict laws in place on what can and cannot be sold. Our experts can provide step by step guidance on this on this.
If you have a single piece or a whole collection that you would like valued, please get in touch with one of our experienced valuers today.
Get free online valuation
Get a free auction estimate by submitting your item online. Selling has never been easier with Griffin's Auctioneers.
Get a free valuation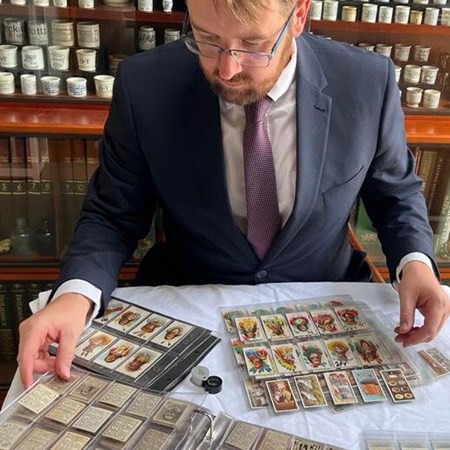 View profile