Cigarette Cards & Trade Cards
Cigarette cards were first produced in America in the early 1870s and initially designed to protect the cigarettes from damage inside the paper packets.
These early issues, produced by Allen & Ginter, featured actresses, baseball players, boxers, wildlife and flags among others and quickly became collectable. Other American tobacco manufacturers such as Duke, Goodwin and American Tobacco Company soon followed suit.
The first British cards were produced in 1888 by W.D. & H.O Wills and were primarily advertising cards until the first general interest set titled Ships & Soldiers was issued. Again, their popularity meant that other brands such as John Player, Churchman and Gallaher began producing their own cards. The last sets were produced in the late 1930s.
Trade cards encompass any non-tobacco issue cards. Many people recall the tea cards issued by Brooke Bond from the 1950s through to the 1990s. Gum cards from the 1950s and 1960s by A. & B.C. Gum, Topps and others are increasingly popular, especially sporting sets, with some individual cards selling for 5 figures. Even modern cards such as Pokemon, Magic and Match Attax are hugely popular worldwide and attract fantastic prices at auction.
For a free valuation of your cigarette or trade cards, contact our expert Ben Griffin who has a wealth of experience, having valued and sold many impressive collections.
Get free online valuation
Get a free auction estimate by submitting your item online. Selling has never been easier with Griffin's Auctioneers.
Get a free valuation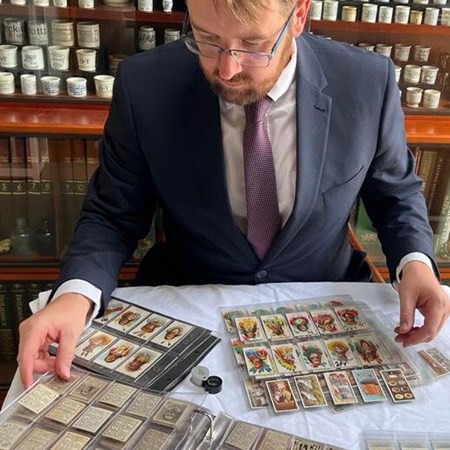 View profile