Team Matchbox - 1972 Superfast champions
Team Matchbox - 1972 Superfast champions
7th December 2022
---
In October 1972 at Hockenheim, Mike Hailwood became European Formula 2 Champion in a Team Matchbox Surtees TS-10 powered by a Ford BDA/Brian Hart engine.
The team was owned and run by John Surtees, the only man to win the World Motor Racing Championship (1964) and seven World Motorcycling Championships.
Lesney, makers of the famous Matchbox toy cars, sponsored the team for the 1972 and 1973 seasons. The actual race car had a striking blue and yellow livery with Matchbox in bright red emblazoned on the front and sides.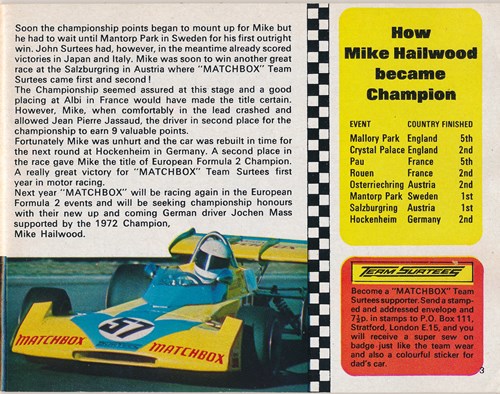 Team Matchbox Surtees Formula 2 Championship, is celebrated on the first two pages of the 1973 Matchbox Catalogue and readers can 'become a MATCHBOX Team Surtees supporter and get a sew-on badge and sticker for Dad's car'. Even more exciting you can play with the new Super Kings No. K-7 Team Matchbox Racing Car Transporter complete with a racing car (No. 34 F1 race car but in oh-so-seventies purple!).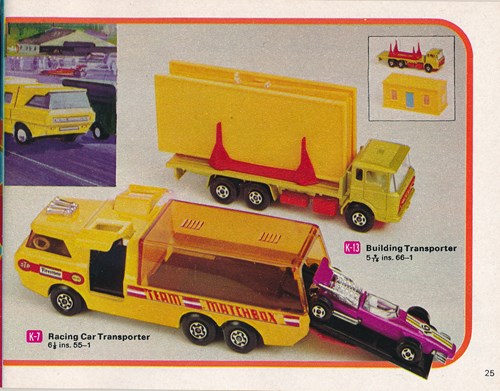 The Team Matchbox No. 24 replaced the more sedate Rolls Royce Silver Shadow in the 1-75 series range. The race car was loosely based on the real thing with a Team Matchbox sticker on the front, but was initially metallic red. Two examples metallic red and a green one (plus two No. 34 F1 cars) were featured in the Team Matchbox set No. G-4.
Rarer still is the Gaf View-master Grand Prix board game, featuring four Team Matchbox cars including two exclusive colours: metallic blue and a solid yellow (closer to the actual F2 race car).
Or you can race at your Matchbox Superfast race track (launched 1969) although fortunately, the real Formula 2 races didn't feature a Loop-the-Loop (No. SF-12) or the Fireball Space Leap (No. SF-13).
Get a free auction estimate by submitting your item online. Selling has never been easier with Griffin's Auctioneers.
Get a free valuation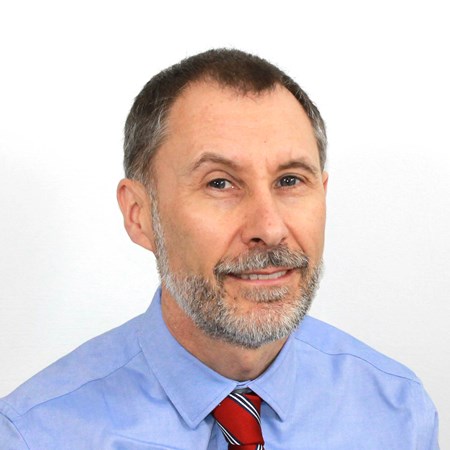 View profile