A Buyer's Guide to Moorcroft Pottery
A Buyer's Guide to Moorcroft Pottery
31st August 2022
---
When it comes to ceramics, there are few names more recognised than Moorcroft.  With their colourful distinctive style and reputation for quality, Moorcroft pottery has been one of the leading names in British 20th Century design, and the company is still going strong, with the Queen regularly taking new designs into the Royal Collection.
A brief history
William Moorcroft was born in Burslem, Staffordshire in 1872, the son of a china painter.  William graduated from what is now the Royal School of Art and then in 1897 went to work for James Macintyre & Co where his talent for design was soon recognised and he was put in charge of the company's art pottery studio.
His art nouveau-influenced Florian Ware, made using a raised slip technique called tube-lining, were all hand-signed by him and won him a gold medal at the St. Louis International Exhibition in 1904. High end stores such as Harrods, Liberty of London Tiffany & Co NY soon took notice of the soaring popularity of his pieces and were eager to stock them. These early pieces are very highly prized and consistently fetch notable prices at auction.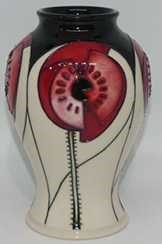 Inevitably, it wasn't long before William decided to set up his own studio and in 1913, moved production of his art pottery to a factory in Sandbach Rd, Burslem where it still is today.
Moorcroft's reputation was further enhanced in 1928 when he was appointed 'Potters to H. M. The Queen'.
In 1945, William died and the business was taken over by his son Walter. It was Walter who introduced exotic flowers and more vibrant colours into the designs.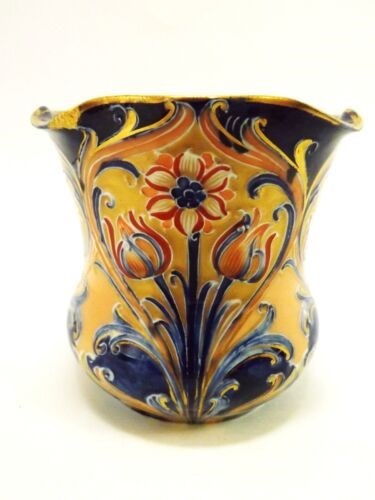 Since 1986 other illustrious designers have taken the helm, notably Sally Tuffin, whose designs included animals, birds and geometric patterns, Rachel Bishop, Emma Bosson and Nicola Slaney.
What is my Moorcroft worth?
Prices for Moorcroft pottery range from a few pounds for a piece of Powder Blue (the tableware used in Liberty's café between 1913 and 1963) to several thousand pounds for the rarer and more unusual pieces with the Walter and William designs particularly sought after. Items with silver and pewter mounts and miniature pieces are also in demand and command a premium.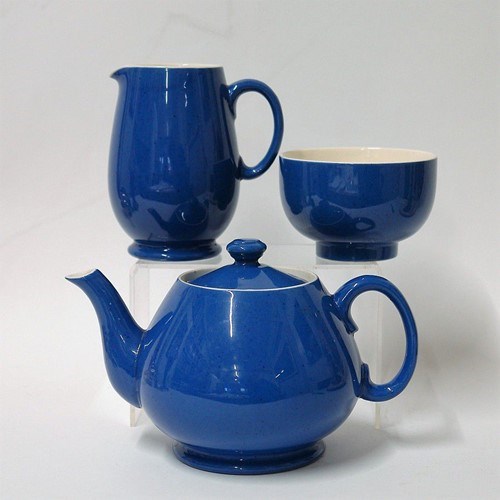 How do I identify Moorcroft pottery?
Over the years a number of potters have attempted to imitate Moorcroft's style.  Fortunately, Moorcroft pieces are marked on the base and these mix of date markings, backstamp markings and paper labels help considerably in authenticating the piece as well as identifying the approximate date and the artist.
However, be aware that if you find a silver stripe through a WM monogram, it often means the piece is a second quality item or that it's imperfect. These pieces have been sold originally at a discounted rate through the factory shop.
Moorcroft Year Cypher Markings:
In 1990, Moorcroft added year cyphers to the base of their pottery pieces. These are often symbols or designs to help identity the year the piece was made.
Get a free auction estimate by submitting your item online. Selling has never been easier with Griffin's Auctioneers.
Get a free valuation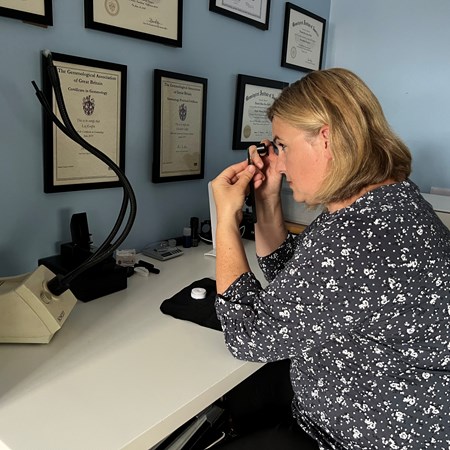 View profile